Technical Support
I have many years of experience doing high quality technical support for a variety of companies and products.
Parts of my Tech Support History
Learning + Helping people is addictive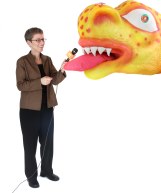 When I began working in technical support, I didn't think I would stick with it for long. I thought of myself as a programmer, rather than as a support person.  I found that I kept learning new things, and for me, learning is addictive. I also enjoyed continually solving people's problems. System administrators from around the world would run into difficulties, and I would solve their problems. This was deeply gratifying.
I was voted highest quality from a team of 16
I was doing technical support for Silicon Graphics on a team with 16 other people. A customer survey was done for my team and the customers voted me as the person who gave the best support.
I created the Documents others learned from
While doing tech support at Silicon Graphics, I documented as I learned, I clearly writing down the answers to the questions I had resolved, and then collated these into a cohesive document. When new tech support people joined, they would use the answer documentation that I created. When I became an expert on a new topic, I wrote guides to those topics.
Past experience
Silicon Graphics: Provided technical support for Silicon Graphics computers, peripherals, and software for system administrators and end users; Solved problems and answered questions dealing with Unix, hardware, communications, programming languages, graphics, and installations; Acted as group leader for up to 15 teammates; Taught classes on network licensing; Wrote technical documentation for publication; Wrote documentation to define internal procedures; Trained personnel; Personally was rated as highest quality of support by customers.
TWiki.net: Provided support to TWIKI customers, including onsite installations and debugging. Support included debugging a wide variety of issues from a very large code base. Customers ranged from Lockheed Martin to the Jane Goodall Institute.
Knowledge Access: Helped customers with our CD authoring tools. Worked with customers to determine the best features to implement next.
Atherton Technology: Assisted customers with using the companies Computer Aided Software Engineering (CASE) product.
Rules to Live By
Be efficient: As they say, "time is money". Help the customer in the quickest and best way possible.
Managing unhappy customers: Some rare support customers start out profoundly unhappy. Never accept abuse. That's simply not part of the job. Tech support folks should stay professional, friendly, helpful, and supportive. But one should not allow the temperament of customers or their frustrations to distract from the actual support job. If tempers flare, remind the customer that you're there to help them.
Make it easier the next time: When there is a support challenge which takes quite a bit of time to resolve, document the problem and the solution. Knowledge databases can be  wonderful things.
Contact Julian
Get in touch and chat about your company or project.
Julian Cash 415.738.9385 julian@HireThisGeek.com or see the contact page.